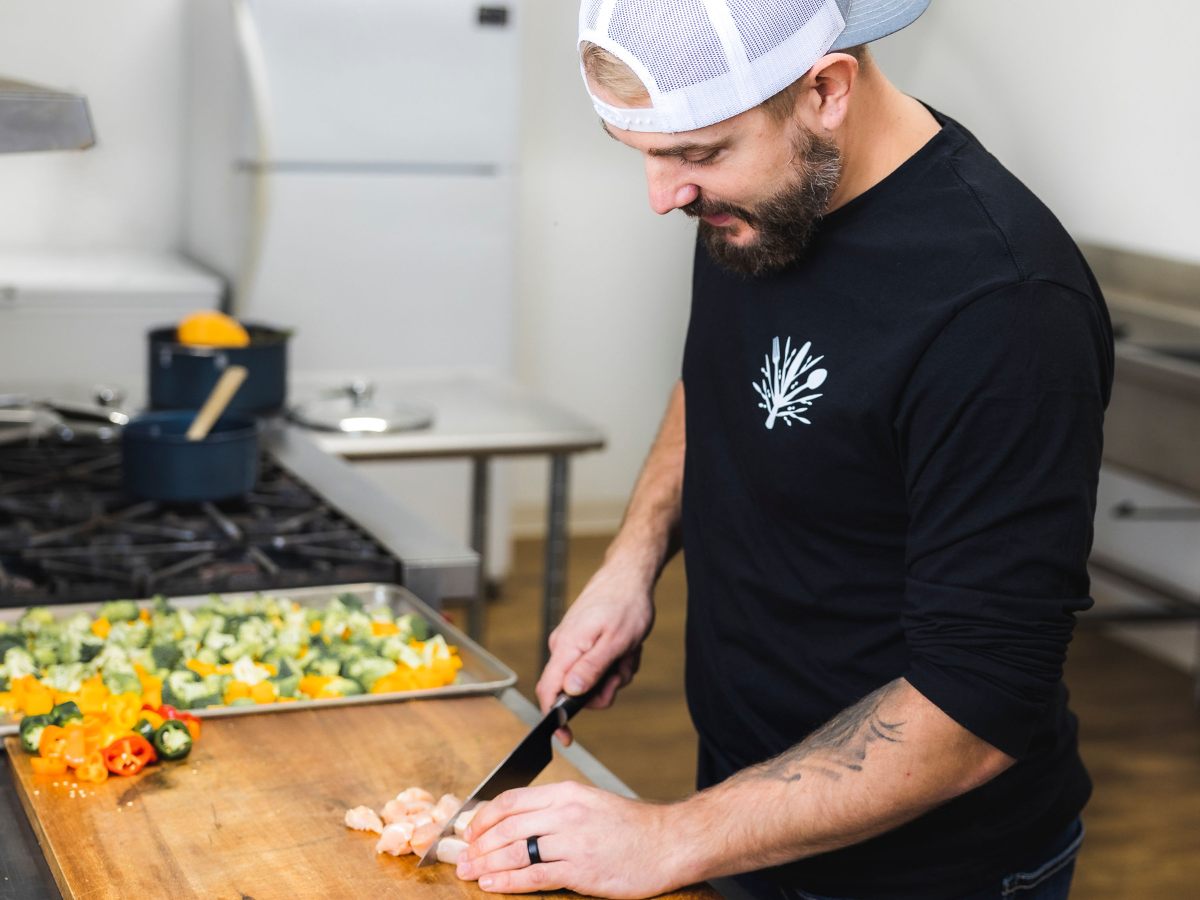 Global Entrepreneurship Week (GEW) is all about bringing together local entrepreneurship communities to build connections, share resources, and learn from one another. Leading up to GEW, we want to showcase just a few of the local businesses that make our communities so special.
This week, we are showcasing Eat for Life Nutrition, a meal prep and nutrition coaching business with locations in Lock Haven, Jersey Shore, and Williamsport, PA. Eat for Life Nutrition is owned by Jordan and Jenna Lamey.
Q: What is the mission of Eat for Life Nutrition?
A: To create convenient meal solutions that simplify our customers' lives and empower them to take control of their health.
Q: What inspired you to start this business?
A: The inspiration behind Eat for Life Nutrition is a fusion of our deep-rooted passion for cooking, a desire for entrepreneurship, and a commitment to a balanced lifestyle. Both Jenna and I have been ardent food enthusiasts for years, and my college minor in Business Administration fueled my dream of owning a business someday.
Initially, we dreamed of opening a restaurant, but we realized that the demanding hours wouldn't allow us the family time we cherish. This realization prompted us to explore other avenues. As we delved into fitness and nutrition, we began crafting healthy yet delicious meals, recognizing a gap in the market for nutritious and flavorful options.
Jenna's social media posts of our culinary creations drew attention, leading friends to request her meal prep services. Encouraged by this response, we took a leap of faith, started offering meal prep to a small group, and received overwhelming feedback. This pivotal moment motivated us to establish an LLC and turn our passion into a business.
Q: What were the first steps you took when starting this business?
A: When we embarked on the journey of starting our business, the initial steps were pivotal in shaping our path to success. One of the first key moves we made was reaching out to a friend who owned a marketing company, with expertise in various forms of media such as video and photography. We shared our vision and ideas with him, and together, we began the process of creating our brand. This collaborative effort laid the foundation for our business identity and marketing strategy.
As we progressed, we recognized the importance of formalizing our business structure. During the initial stages of filing for our LLC and researching the costs associated with legal services, our friend recommended an invaluable resource: the Small Business Development Center (SBDC). He highlighted that the SBDC offered free assistance to entrepreneurs like us, which immediately caught our attention
Following his advice, we took the step of reaching out to the Penn State SBDC. This decision proved to be a game-changer, as their guidance and support were instrumental in navigating the complexities of establishing our business. The SBDC not only helped us with administrative tasks but also provided invaluable insights and expertise that paved the way for our business's successful launch.
Q: How has the SBDC helped your business?
A: The SBDC has been instrumental in our business journey, providing crucial support that significantly impacted our success. Initially, they simplified the administrative hurdles, guiding us through the process of setting up our LLC and obtaining an EIN, saving us time and hassle.
Beyond administrative help, the SBDC played a pivotal role in shaping our business strategy. They offered valuable insights into marketing strategies and helped us optimize our operations for efficiency. Their expertise in supplier identification ensured that we established reliable partnerships, ensuring the quality of our products. Additionally, their support in financial projections was key in making informed decisions and securing funding.
The SBDC assisted us in negotiating terms for a commercial kitchen rental. This complex process was made manageable with their guidance, ultimately securing us an ideal kitchen and favorable lease terms. Throughout our journey, the SBDC has been a reliable resource for various tasks, offering advice and solutions when needed. Their comprehensive support has been a cornerstone of our business's success, positioning us for long-term growth and success. We are profoundly grateful for their partnership and look forward to continuing to benefit from their invaluable services as we expand our business.
Q: What advice do you have for other business owners or entrepreneurs looking to start a business?
A: Our advice for aspiring business owners and entrepreneurs is simple but profound: pursue your passions with unwavering determination, regardless of the barriers or fears that may stand in your way. The journey of starting and running a business is undoubtedly challenging, but the rewards can be incredibly fulfilling.
Don't be deterred by the fear of failure. In fact, view failure as a natural part of the entrepreneurial process. It's through failures that we learn, adapt, and ultimately find innovative solutions. If you stumble along the way, remember that setbacks are not the end but rather stepping stones towards success. Regret often stems from missed opportunities, so take the leap and follow your dreams.
Q: What's your favorite part about being a business owner?
A: Our favorite aspect of this journey is the opportunity to pour our heart and soul into our products and services. It's the creative process, the attention to detail, and the relentless pursuit of excellence that truly ignite our passion.
But what makes it even more rewarding is the genuine satisfaction that comes from receiving positive feedback. When our customers appreciate and validate our efforts, it's a powerful affirmation of our dedication. It's not just about profits; it's about the impact we make on people's lives and the value we bring to our community.
Q: What are future goals for Eat for Life Nutrition?
A; Our future goals for Eat for Life Nutrition are driven by our vision of providing an even more personalized and accessible experience to our customers. One of our primary aspirations is to establish our own storefront, complete with a dedicated commercial kitchen. This would not only serve as a hub for our culinary creations but also as a space where customers can come in, browse our offerings, and engage with our brand in a relaxed and welcoming environment.
We are also excited about the prospect of offering in-house nutrition coaching. As I, Jordan, am a certified nutrition coach, we envision having a dedicated room where we can provide one-on-one coaching sessions. This addition to our services will enable us to further support our customers on their journey to better health and nutrition.
Ultimately, our goal is to create a holistic experience for our customers, combining the convenience of our nutritious meals with the opportunity to receive expert guidance and advice on their individual nutritional needs. We believe that this expansion will not only enhance our business but also deepen our impact on the well-being of our community. We look forward to the day when these goals become a reality for Eat for Life Nutrition.