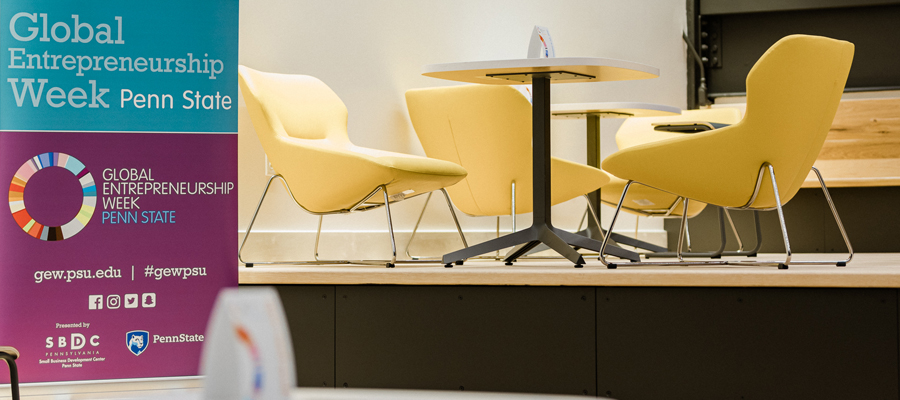 Global Entrepreneurship Week Penn State, one of the largest Global Entrepreneurship Week events in the United States, operates independently of the Global Entrepreneurship Network, the worldwide organization that established Global Entrepreneurship Week. The Penn State SBDC manages planning, organization, and execution of Global Entrepreneurship Week Penn State. Like every other Global Entrepreneurship Week initiative, we are responsible for creating our own events and managing our own organization.
Event Themes
Global Entrepreneurship Week reaches millions of people through local, national and global events and activities – framed by key global themes that shine a spotlight on leading topics in entrepreneurship. Events will also be aligned with the Global Entrepreneurship Network's tagline, "Removing Barriers and Welcoming All."
Education I #GEWeducation

GEW Education works to share resources, raise awareness and provide skills training to potential entrepreneurs around the world. This theme celebrates the tools and programs communities use to foster entrepreneurship.

Ecosystem I #GEWecosystems

GEW Ecosystems aims to inspire communities to collaborate, and share their networks and markets to help their rising startups thrive. This theme celebrates the shared challenges and triumphs of entrepreneurship communities and hubs around the world.

Inclusion I #GEWinclusion

GEW Inclusion will highlight the work startup champions are doing around the world to minimize barriers and obstacles for entrepreneurs by maximizing inclusion. This theme celebrates diversity in all forms, including women and youth in entrepreneurship.

Policy I #GEWpolicy

GEW policy will highlight the work of governments and policymakers to help entrepreneurs everywhere start and scale.
Global Entrepreneurship Week Penn State partners with Invent Penn State to help further their mission of economic development, student career success, and job creation. We create unique opportunities for student engagement, building upon classroom learning with real-world interactions within and outside of the University community.
Start Something Here.
Global Entrepreneurship Week is a collaboration between the University and local communities across the Commonwealth. Global Entrepreneurship Week Penn State works closely with the Centre County and Commonwealth Campus communities to provide educational and experiential opportunities for professionals and participants interested in engaging with local businesses.